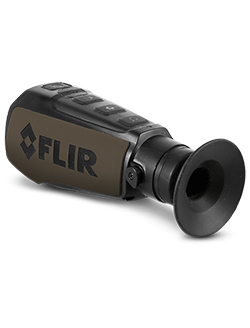 Flir Scout III 640 UK
Flir
FLIR Scout III 640 Thermal Camera Key Features
Thermal camera made for use in outdoor conditions
Detect the body heat of a man-sized target (1.8 x 0.5m) at a distance of up to 1247 yards/1140m (range depends on conditions)
Powerful built-in thermal detector with resolution of 640 x 512 pixels
High speed 30Hz frame rate - ensures you get smooth, lifelike footage when viewing through the camera
Never miss a thing - starts up in under 2 seconds!
Built-in 2x digital zoom function
Extremely easy to use, even for beginners - all buttons are on the top of the camera, making it easy to adjust functions when viewing
Adjustable colour palettes - choose between Black Hot, White Hot, InstAlert (highlights hottest part of the image red) and Graded Fire
Built-in LED task light (operational when imager is powered off)
Adjustable brightness levels
640 x 480 pixel display
Video output jack
Powered by internal rechargeable lithium ion batteries with life of more than five hours
Automatically powers itself off when left idle for 5 minutes, ensuring battery life isn't accidentally drained
Completely weathertight - the camera is IP67 rated and is even suitable for being submerged in water!
Lightweight design - weighs just 12 ounces, making the camera comfortable to hold and operate using just one hand
Flir,s unique 2-10 warranty covers parts and labour for 2 years and the detection for ten.
What's Included?
FLIR Scout III 640 Thermal Camera
USB Power Adapter/Charger
Wrist Strap
USB Cable
Quick Start Guide
Molle Carrying Bag